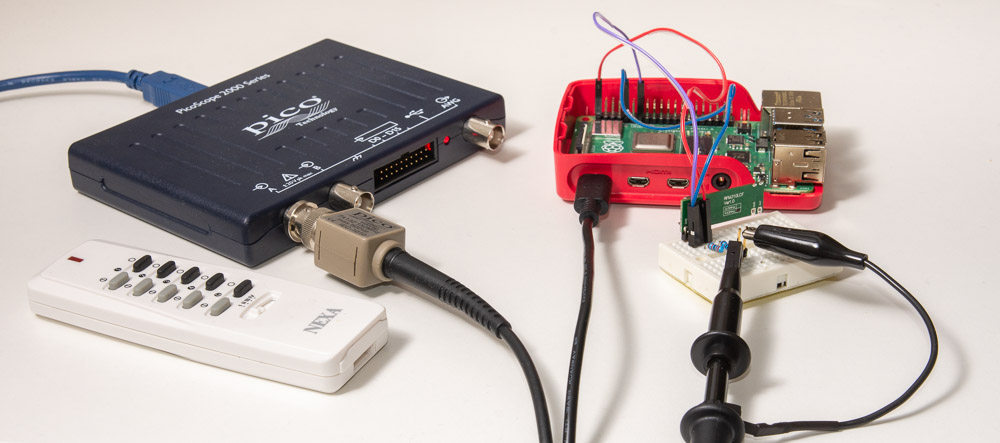 Finale time! After analyzing the Nexa 433 MHz smart power plug remote control signal with Arduino Uno and regular USB soundcard, it is time to try some heavier guns: Raspberry Pi 4 and PicoScope 2208B MSO.
I was initially sceptical on using a Raspberry Pi for analyzing signals, due to several reasons:
Most GPIO projects on RaspPi seem to use Python, which is definitely not a low-latency solution, especially compared to raw C.
Having done a raw C GPIO benchmark on RaspPi in the past, the libraries were indeed quite... low level.
I had serious doubts that a multitasking operating system like Linux running on the side of time-critical signal measurements might impact performance (it is not a RTOS after all).
However, there are projects like rpi-rf that seem to work, so I dug in and found out some promising aspects:
There is a interrupt driven GPIO edge detection capability in the RaspPi.GPIO library that should trigger immediately on level changes.
Python has a sub-microsecond precision time.perf_counter_ns() that is suitable for recording the time of the interrupt
Python code to record GPIO signals in Raspberry Pi
While rpi-rf did not work properly with my Nexa remote, taking hints from the implementation allowed me to write pretty concise Python script to capture GPIO signals:
from RPi import GPIO
import time, argparse

parser = argparse.ArgumentParser(description='Analyze RF signal for Nexa codes')
parser.add_argument('-g', dest='gpio', type=int, default=27, help='GPIO pin (Default: 27)')
parser.add_argument('-s', dest='secs', type=int, default=3, help='Seconds to record (Default: 3)')
parser.add_argument('--raw', dest='raw', action='store_true', default=False, help='Output raw samples')
args = parser.parse_args()

times = []

GPIO.setmode(GPIO.BCM)
GPIO.setup(args.gpio, GPIO.IN)
GPIO.add_event_detect(args.gpio, GPIO.BOTH,
        callback=lambda ch: times.append(time.perf_counter_ns()//1000))

time.sleep(args.secs)
GPIO.remove_event_detect(args.gpio)
GPIO.cleanup()

# Calculate difference between consecutive times
diff = [b-a for a,b in zip(times, times[1:])]

if args.raw: # Print a raw dump
    for d in diff: print(d, end='\n' if d>5e3 else ' ')

The code basically parses command line arguments (defaulting to GPIO pin 27 for input) and sets up GPIO.add_event_detect() to record (microsecond) timings of the edge changes on the pin. In the end, differences between consecutive times will be calculated to yield edge lengths instead of timings.
Raspberry Pi is nice also due to the fact that it has 3.3V voltage available on GPIO. Wiring up the 433 MHz receiver was a pretty elegant matter (again, there is a straight jumper connection between GND and last pin of the receiver):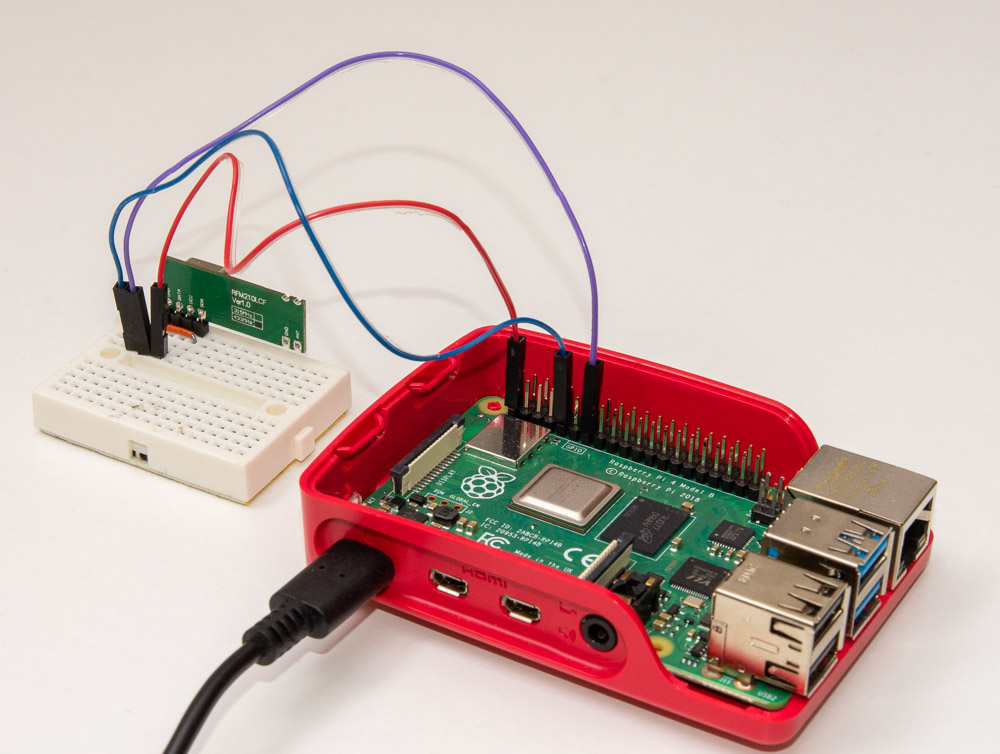 Wire the receiver in
Start the script with python scan.py --raw (use -h option instead for help on command)
Press the Nexa remote button 1 during the 3 second recording interval
Here's how the output looks like (newline is added after delays longer than 5 ms):