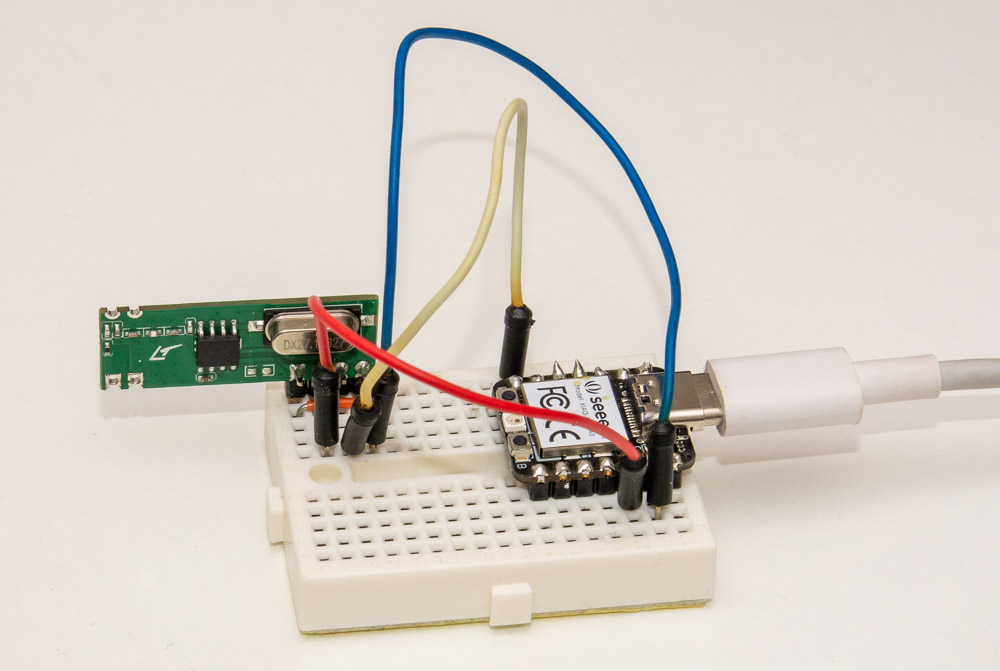 Having done 433 Mhz radio signal recording with PicoScope 2208B MSO and Raspberry Pi 4, Arduino Uno and regular USB soundcard, I figured, why not add one more to the mix: Let's try the RP2040!
Compared to Arduino Uno, the RP2040 has major advantages for this project:
Much higher clock frequency of 133 MHz means there's cycles to spare even at ~1 Mhz rates
Relatively vast SRAM memory, 264 kB vs. 2 kB
Native C SDK that is rather easy to work with
I'm using the Seeed XIAO RP2040 for this project. It is extremely compact and has a nice USB-C interface. You can see the wiring, it's just 3.3V and GND to the receiver (which luckily did work fine with that voltage) and signal to GPIO pin 0.
Note that while RP2040 pinout has 5V supply line, the GPIO pins are not 5V tolerant, so you should not power a 5V receiver and directly connect it to pin 0. A voltage divider is strongly recommended to avoid longer term damage to the RP2040 pin.
Setting up RP2040 programming environment
I basically followed the Getting started guide that was linked from the Pico SDK Github to get the Blink example working. After that, it was quite simple to set up a new project following the "Quick-start your own project", setting up CMakeLists.txt like this:
cmake_minimum_required(VERSION 3.13)

# initialize the SDK based on PICO_SDK_PATH
# note: this must happen before project()
include(pico_sdk_import.cmake)

project(joonas-pico)

# initialize the Raspberry Pi Pico SDK
pico_sdk_init()

# rest of your project
add_subdirectory(logic_analyze)

In the logic_analyze subfolder I copied the Interrupt triggered GPIO example to continue from. You can grab the full example as a zip here and run pretty similar set of commands as in the SDK guide:
$ mkdir logic_analyze
$ cd logic_analyze
$ wget https://codeandlife.com/images/2023/logic-analyze-pico.zip
$ unzip logic_analyze-pico.zip
$ mkdir build
$ cd build
$ export PICO_SDK_PATH=../../pico-sdk
$ cmake ..
$ make

Note that this assumes you placed the example directory logic_analyze alongside your pico-sdk directory.
After running make, you should find the logic.uf2 file under logic_analyze directory and you can just drag and drop it to your RP2040 when it is in USB drive mode.
C Code for Recording GPIO Changes
The code is basically combination of what I did for Arduino and Raspberry Pi, and the hello_gpio_irq and hello_timer examples. Basic logic:
Setup stdio_init_all() (over USB, necessary definitions to enable that in CMakeLists.txt file) and wait until stdio_usb_connected() returns true.
Loop forever, asking the user over serial (USB) to press a key to start recording
Clear receive buffer
Set alarm timeout of 5 seconds to end recording if buffer hasn't been filled
Set up GPIO interrupt triggers on rising and falling edges of pin 0
In the interrupt handler, record time elapsed since last edge using time_us_64()
Once timeout is reached or buffer has been filled, disable GPIO interrupt and print out received timings.
Here's the main method:
int main() {
    stdio_init_all();
    while(!stdio_usb_connected());

    while(true) {
        printf("Press any key to start.\n");
        getchar_timeout_us(100*1000000);
        printf("Started!\n");

        for(int i = 0; i < BUFSIZE; i++) buf[i] = 0; // Clear
        pos = 0;
        timer_fired = false;

        add_alarm_in_ms(5000, alarm_callback, NULL, false);

        gpio_set_irq_enabled_with_callback(0,
                                           GPIO_IRQ_EDGE_RISE | GPIO_IRQ_EDGE_FALL,
                                           true, &gpio_callback);

        while(!timer_fired && pos <= BUFSIZE) tight_loop_contents();

        gpio_set_irq_enabled(0, GPIO_IRQ_EDGE_RISE | GPIO_IRQ_EDGE_FALL, false);
        printf("Ended.\n");

        for(int i = 0; i < pos; i++) printEdge(buf[i], i&1);
    }
}

Alarm and interrupt callbacks are rather straightforward: