Visit to the Official Raspberry Pi Store in Cambridge
Two weeks ago I had the chance to visit the official Raspberry Pi store in Cambridge. Apart from those living in the UK, I think not many will it that far, so I thought to share my pictures from the visit for you to enjoy (and maybe evaluate whether it's worth the trip). Enjoy!
The Store
The Raspberry Pi Store is located in the Grand Arcade shopping mall, and on the second floor. Looks nice and official.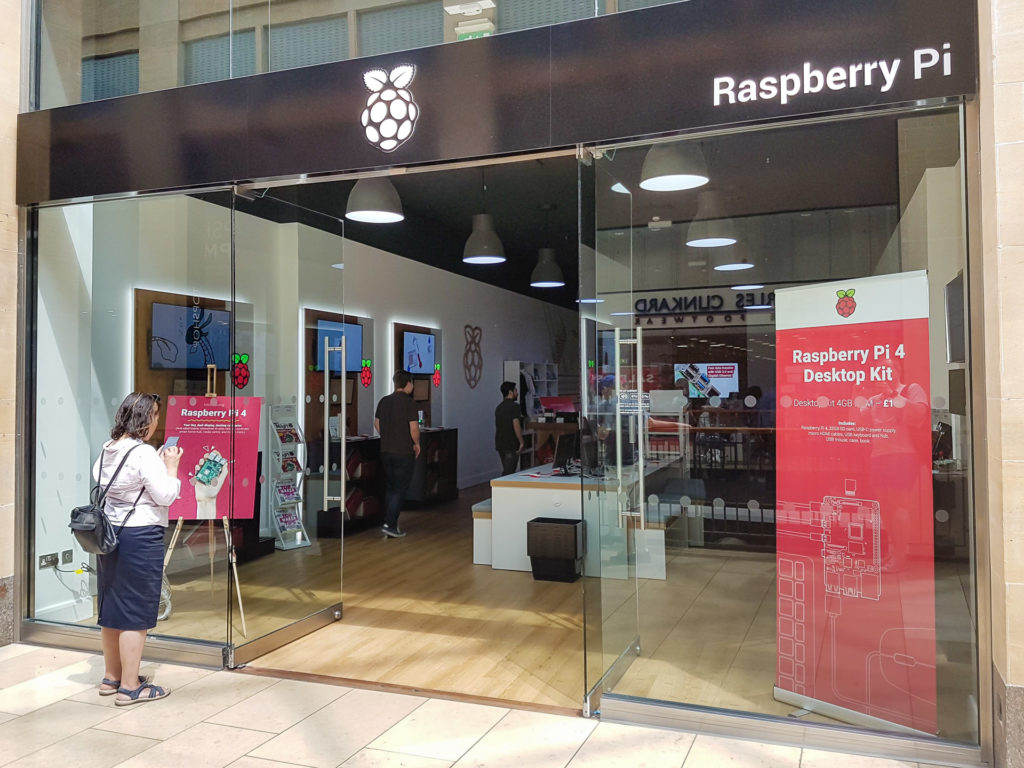 Naturally, it houses an excellent selection of the Pi boards. There was 3B-, 3A2, Zero, Zero W, Zero W+, compute modules, Pi 4 of course (with different memory options), all with good availability. To cheapest Zero boards were limited to 1 per customer, much like in web store. All boards had a good choice of cases as well on sale. Very nice.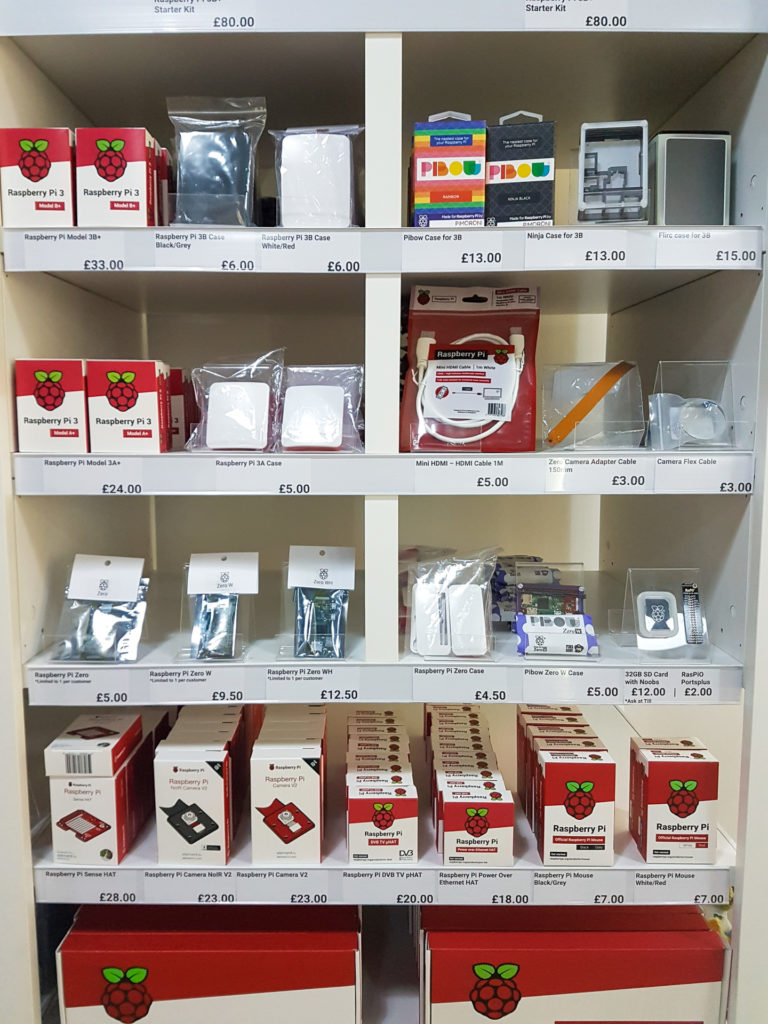 You could also get whole computer kits with a nice raspberry themed keyboard and mouse, as well as a case, an SD card, power delivery (UK plug at least on the display version) and a beginner's guide. Nice combo, although it of course about doubles the price tag of just the unit itself.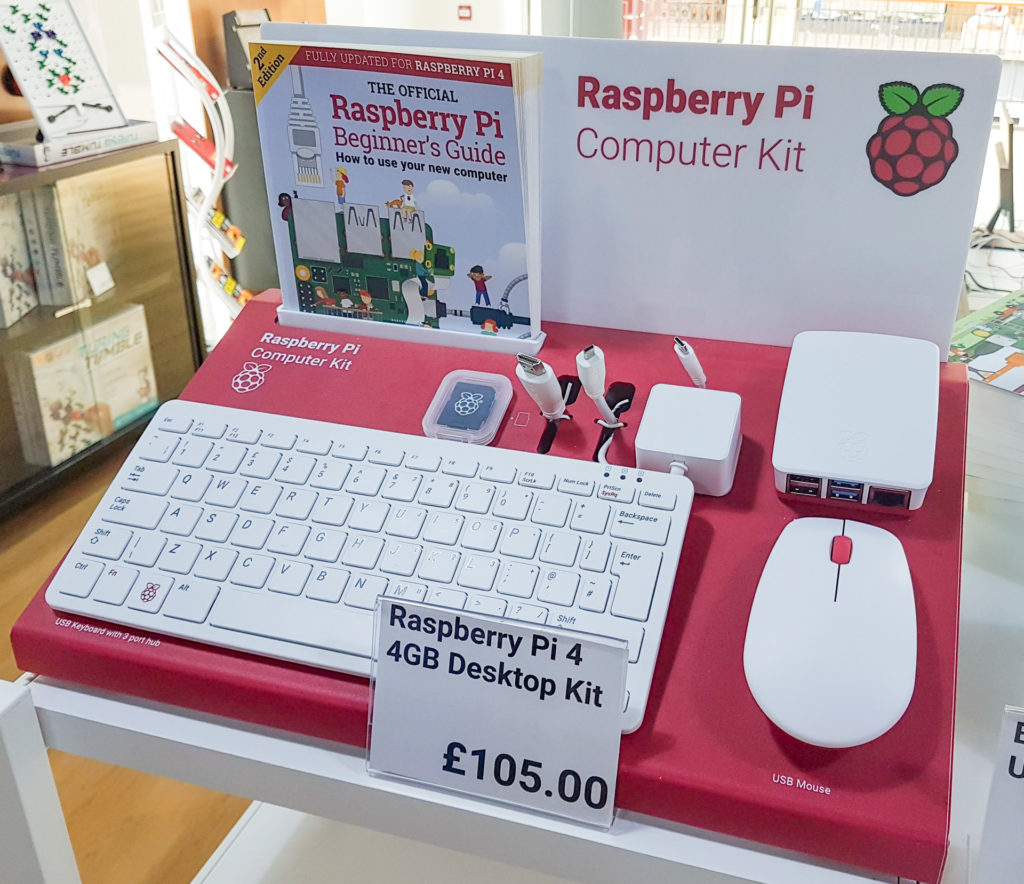 The dual monitor capability of the Pi 4 was very much on display, and there were a couple of machines to try out in the central table area of the store. The machines also had network connection, which was nice for test drive purposes, and not something that even mainstream computer stores have.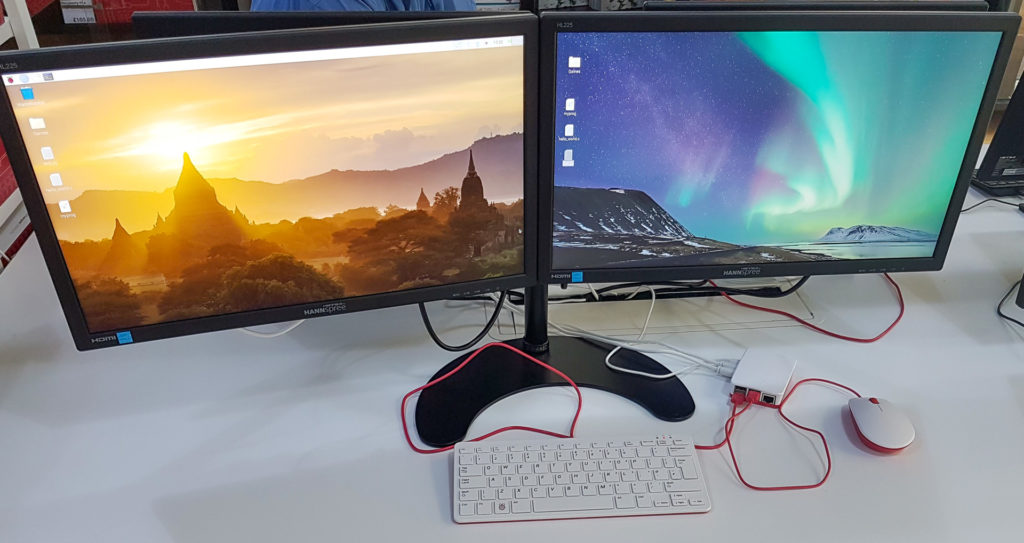 And if you want to tout your inner pi'ness, there was of course coffee mugs, notepads and t-shirts available. Would definitely have gotten one if I drank coffee, or had arrived to UK with more than just carry-on luggage!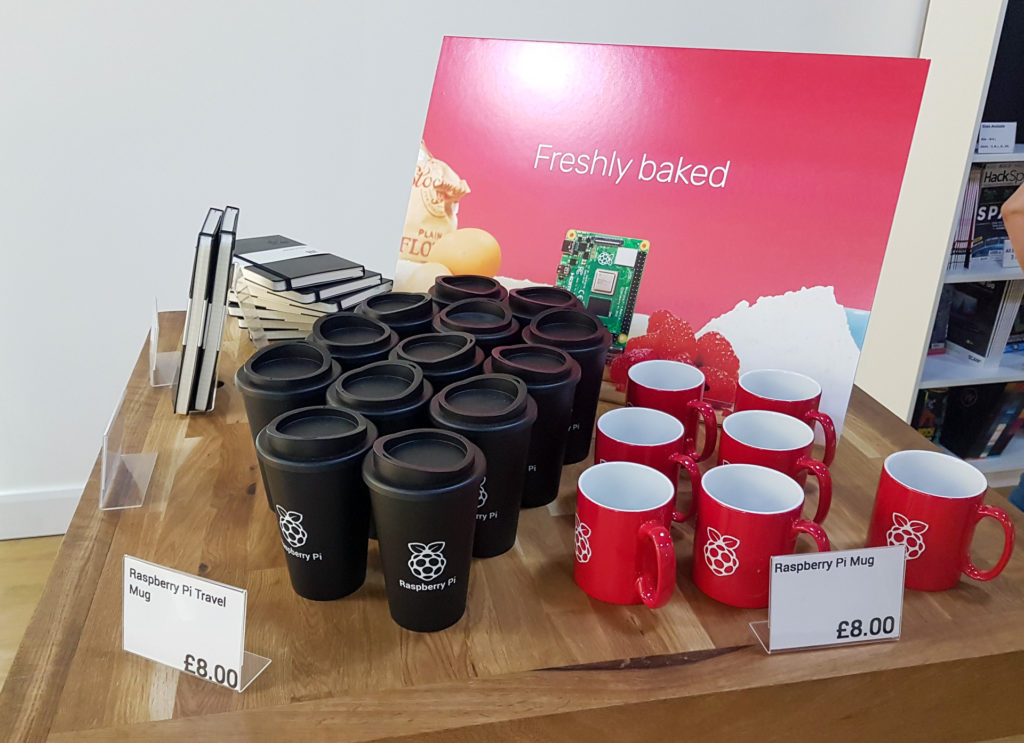 Cool things with the Pi
Another thing prominently shown at the store were all the projects that you could do with Raspberry Pi. Here is a setup with an ultrasound distance sensor wired to the board.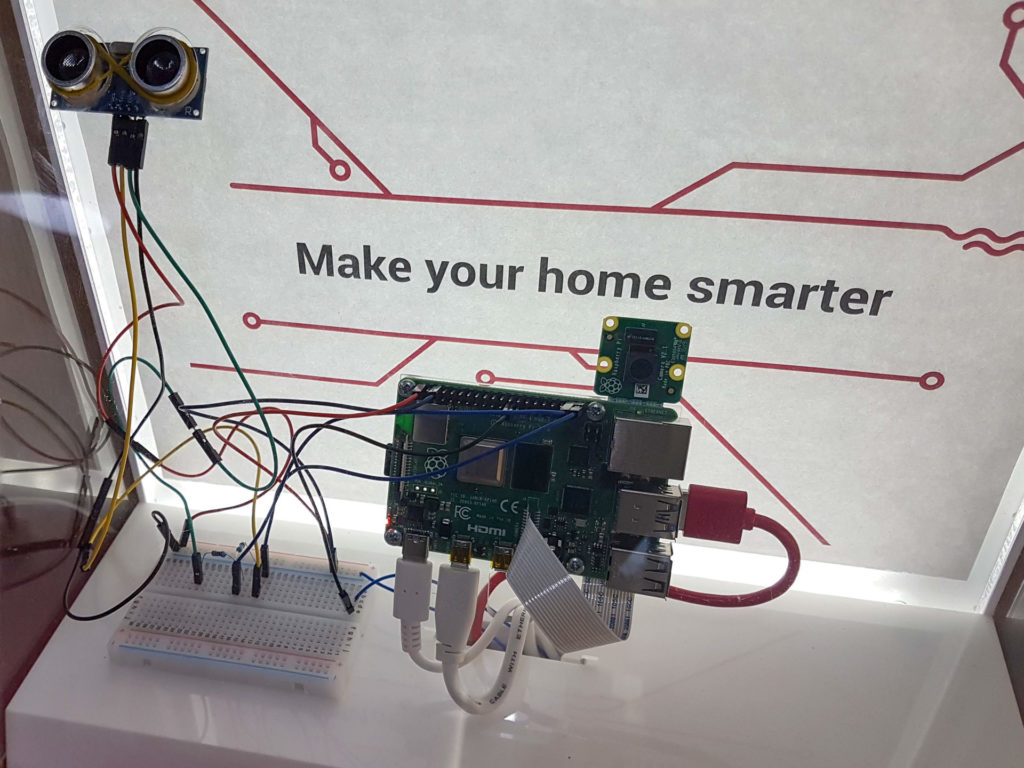 Apart from trendy slogans and on-display unit, it was more than just a show or a "hands off demo". The machines usually had a Python editor open with a short piece of code showcasing the actual DIY setup on display, which you could run and try out — or even modify! This is something that many kids or programming newbies will hopefully find exciting and maybe inspire them to try it out themselves.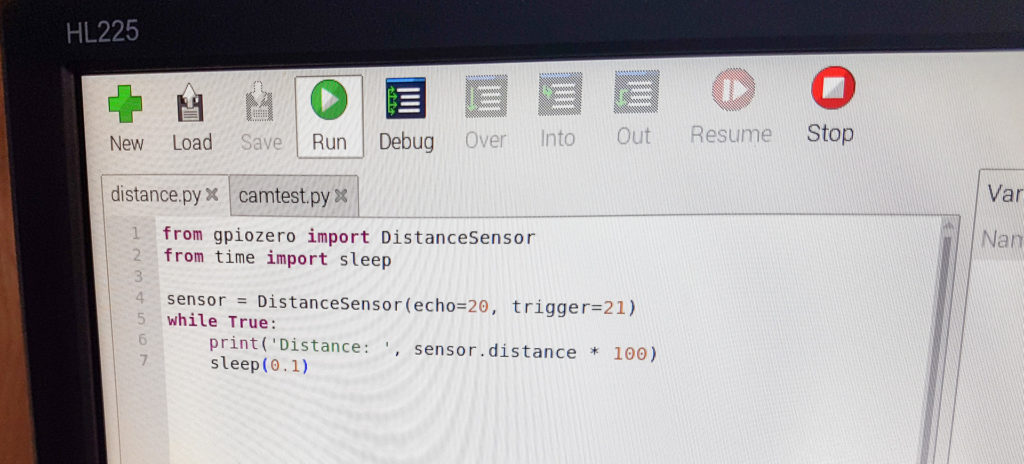 Here's another one with a Sense HAT from element 14 on top a Pi unit. It had a nice RGB display with the code to run animations in, so I naturally had to take a shot and made an old-school "random red and green blinking lights" progression that you see happening in front of very old mainframes. Was a bit disheartened I could not get my own invented-on-the-spot random number generator working and had to resort to stanrdard Python RNG. :(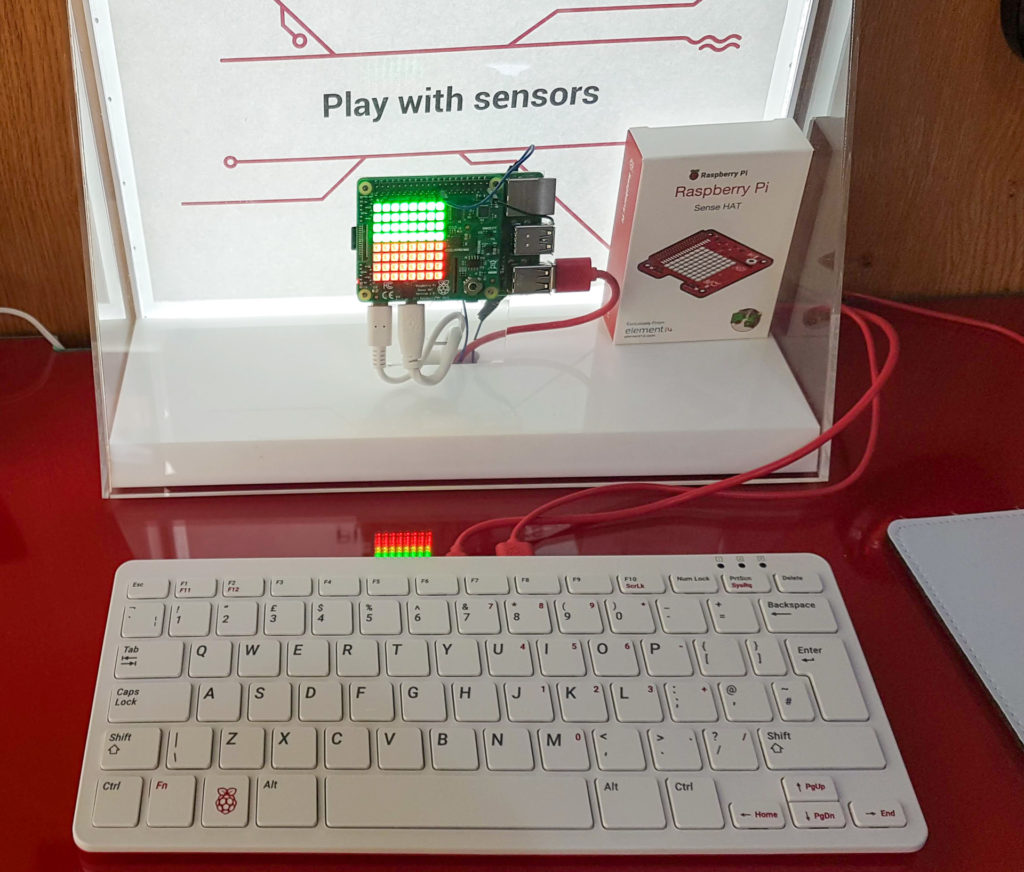 Another with basic GPIO demo with a button, and some leds. The exact setup was naturally available for purchase on the shelves. The "project stands" usually also had a small display telling a bit more about what the setup is doing.

For those with less programming ability or maybe familiarity with the visual programming language used in LEGO robotic projects, there was also a Scratch demo in the store.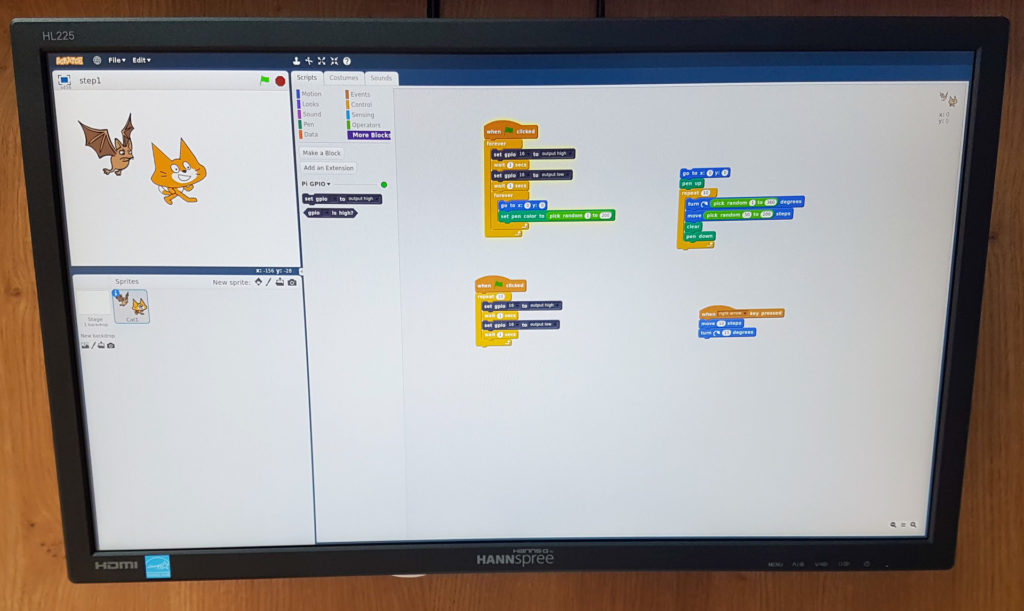 The Pi Accessories
In addition to the Pi boards, there was a multitude of exciting components and project kits, including but not limited to robotics, OLED and TFT displays, all kinds of Pi sensor hats, basic electronics kits, and sensors. The pricing was also good, and competitive with web, especially with no shipping fees and zero wait time. I spent probably an hour poring through the shelves and trying to decide what to pick!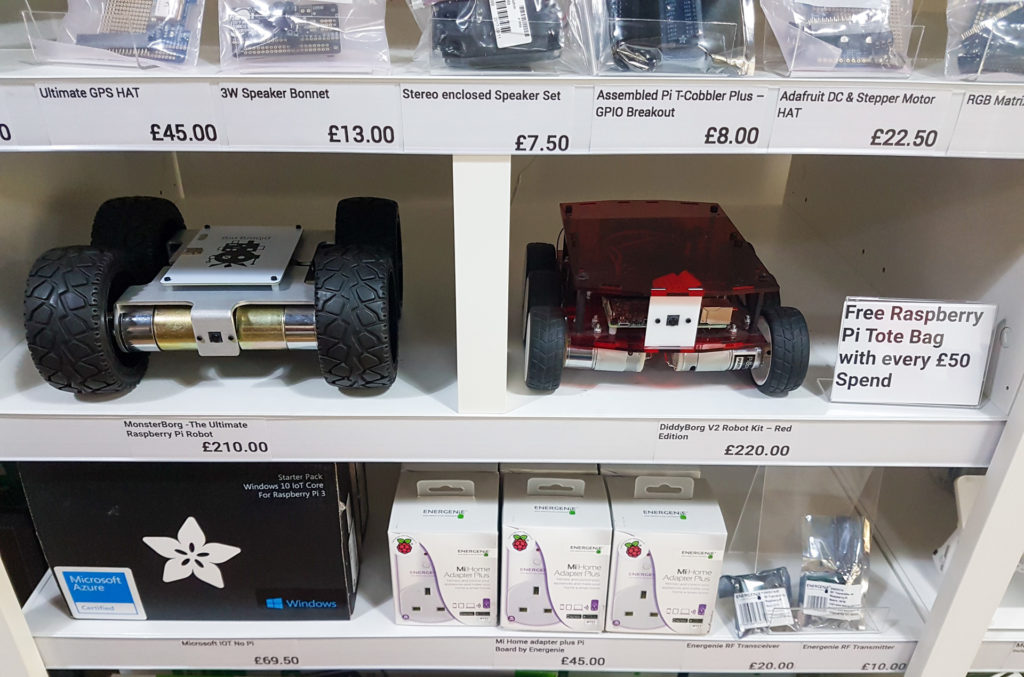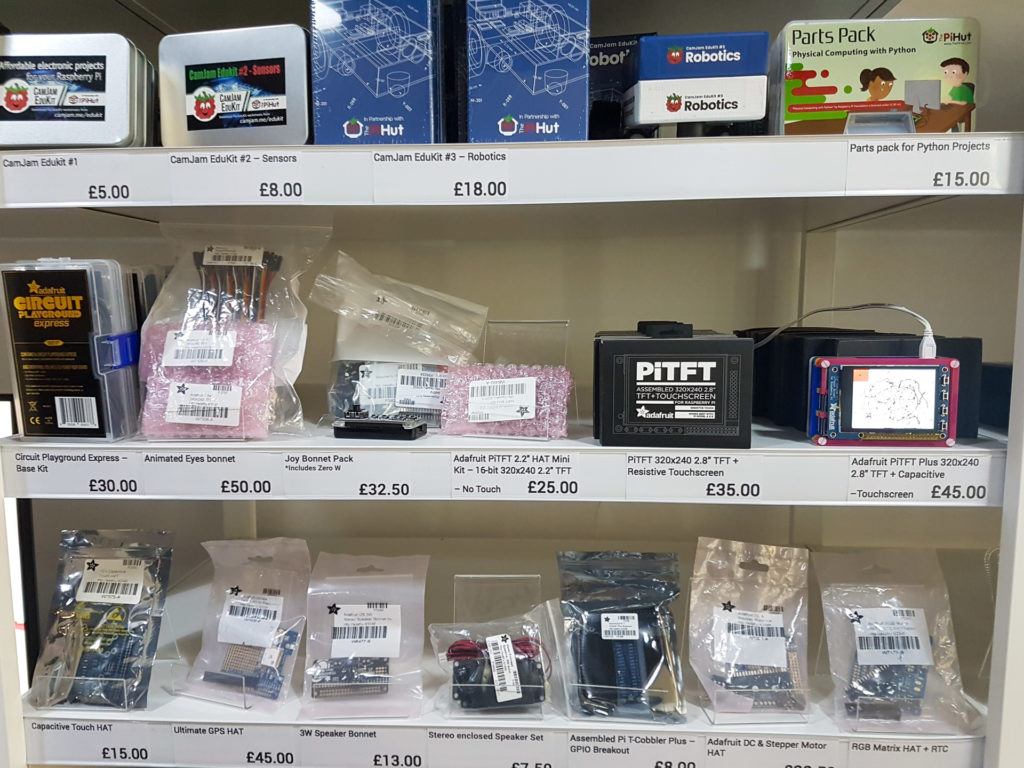 Particularly tempting were the colorful Picade units on display, with robust controls and great retro feel. The size and price thankfully saved me from hauling these units back to Finland, but it was not an easy temptation to avoid!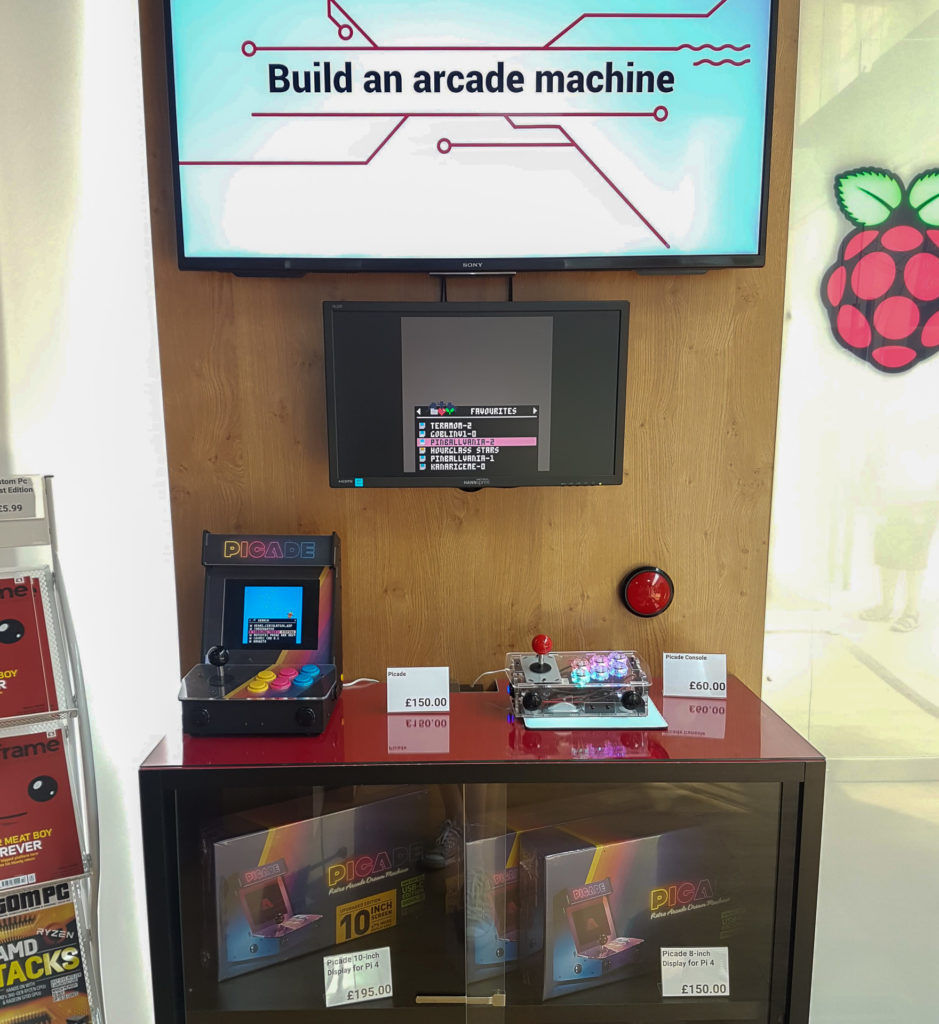 There was also a very interesting mechanical "Turing Tumble" kit on display. It's basically a mechanical "computer" powered by marbles. You can take a look at their website to learn more. Different mechanisms enable simple logic to be built, and even though the space is too limited to make a 16-bit adder or anything of the like, you'll certainly have fun grasping the fundamentals!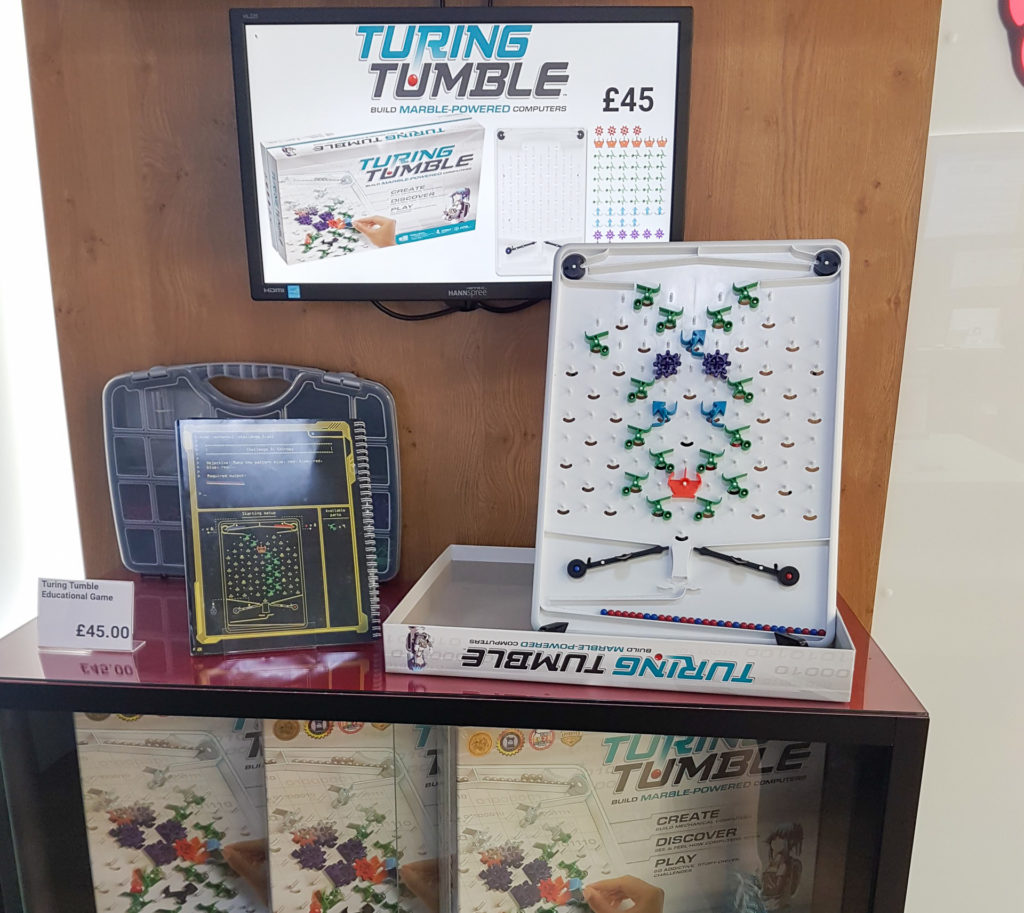 Pi literature
In addition to coffee mugs, you can see a couple of t-shirts that were also available. There were also good hacker and geek friendly magazines with reasonable pricing, definitely something that you might pick up to spend some time with on the train ride back to London for example.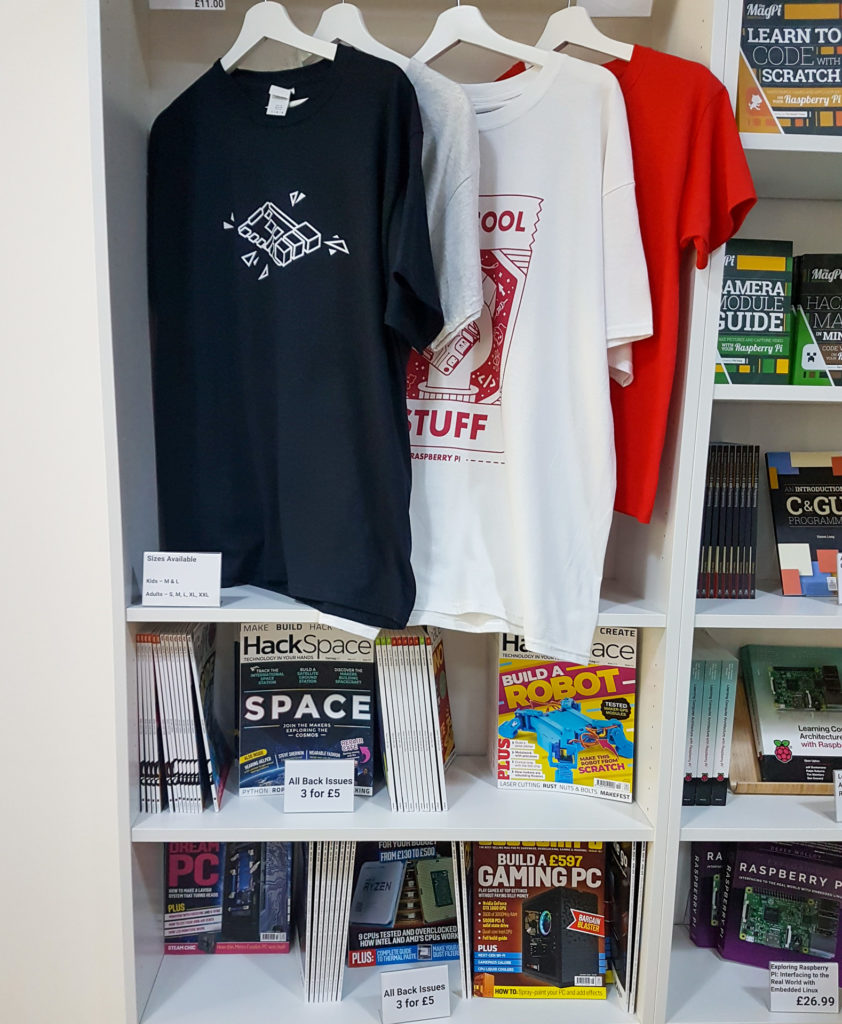 In addition to magazines, there was an excellent array of Pi and programming related books. Had I not switched solely to ebooks myself (and not having read those "Learn C" books already 25 years ago) I'd definitely left the store weighed down with some quality reading material!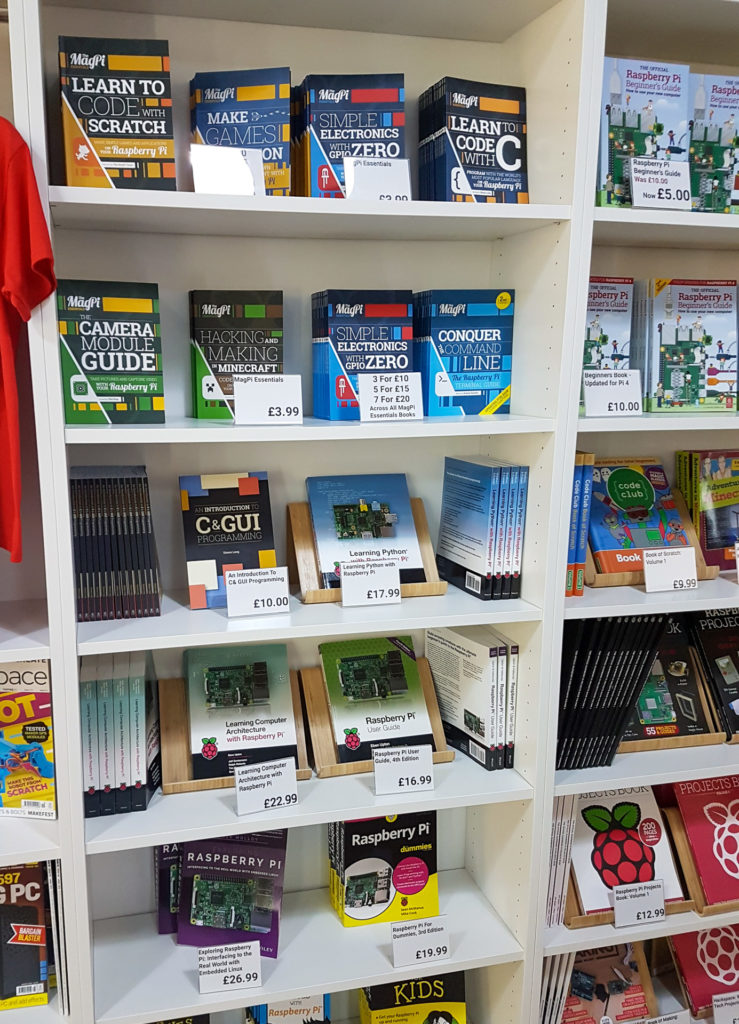 Great selection of Raspberry Pi books catering all topics from computer architecture to projects and kids was superb as well. If you'd want to gift your kid, relative or neighbor (or even a co-worker) some Pi knowledge, you'd be well covered here.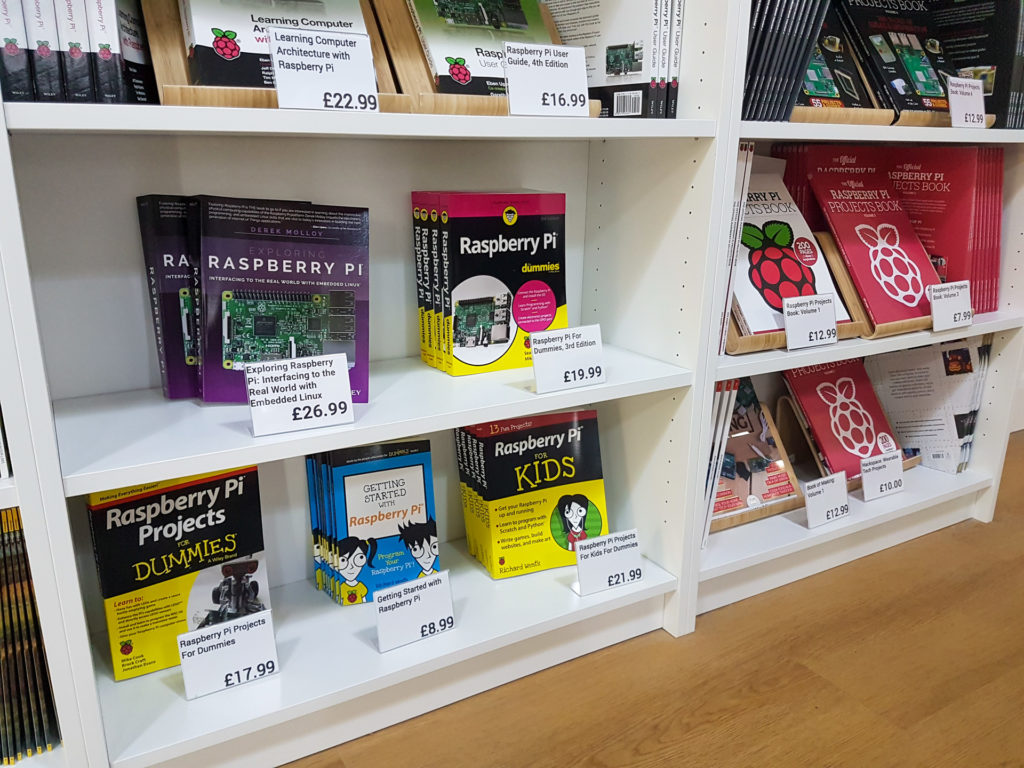 All good things must come to an end
After much deliberation, I finally picked some stuff and headed to the counter. And what a counter! Behind the glass there seems to be every model of the Pi produced, as well as some pure boards and probably a couple of prototype ones as well. A mini-museum in itself!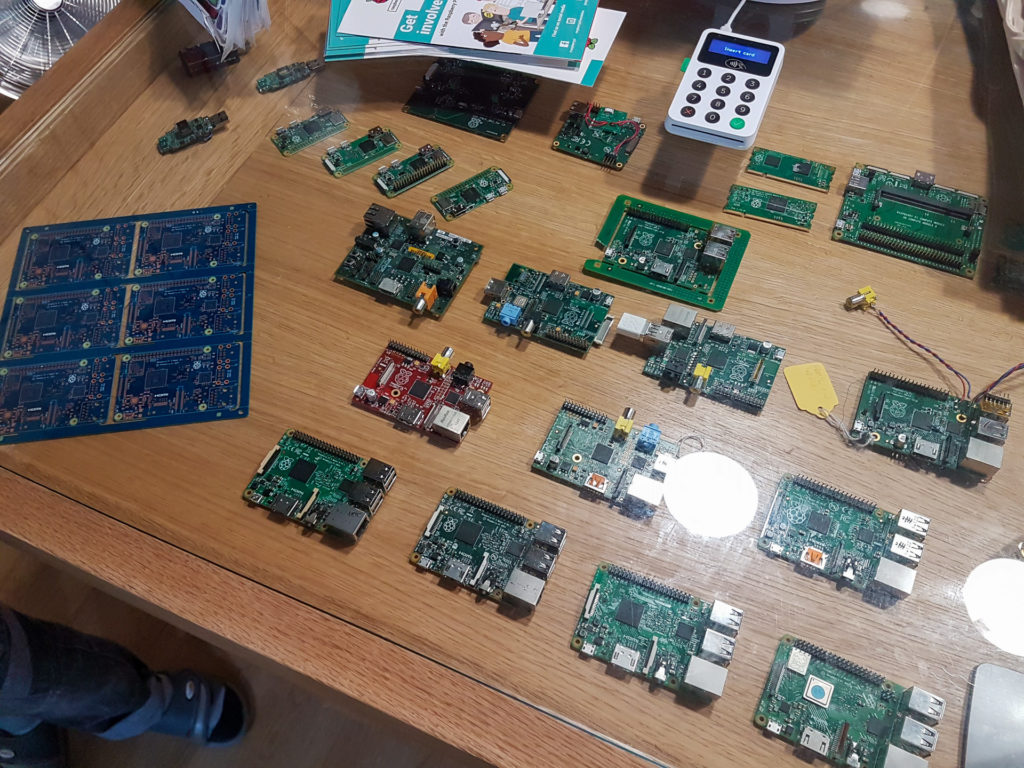 My official Raspberry Pi Store receipt. Yeah I know: A measly Pi4 case! What was I thinking?! Probably mostly the 25+ boards, sensors, cases and other stuff waiting at home for me to work on — while walking the aisles I realized that apart from the Picade and the robotics units, I pretty much had almost every kind of gadget already purchased. So I settled for something light but officially Pi.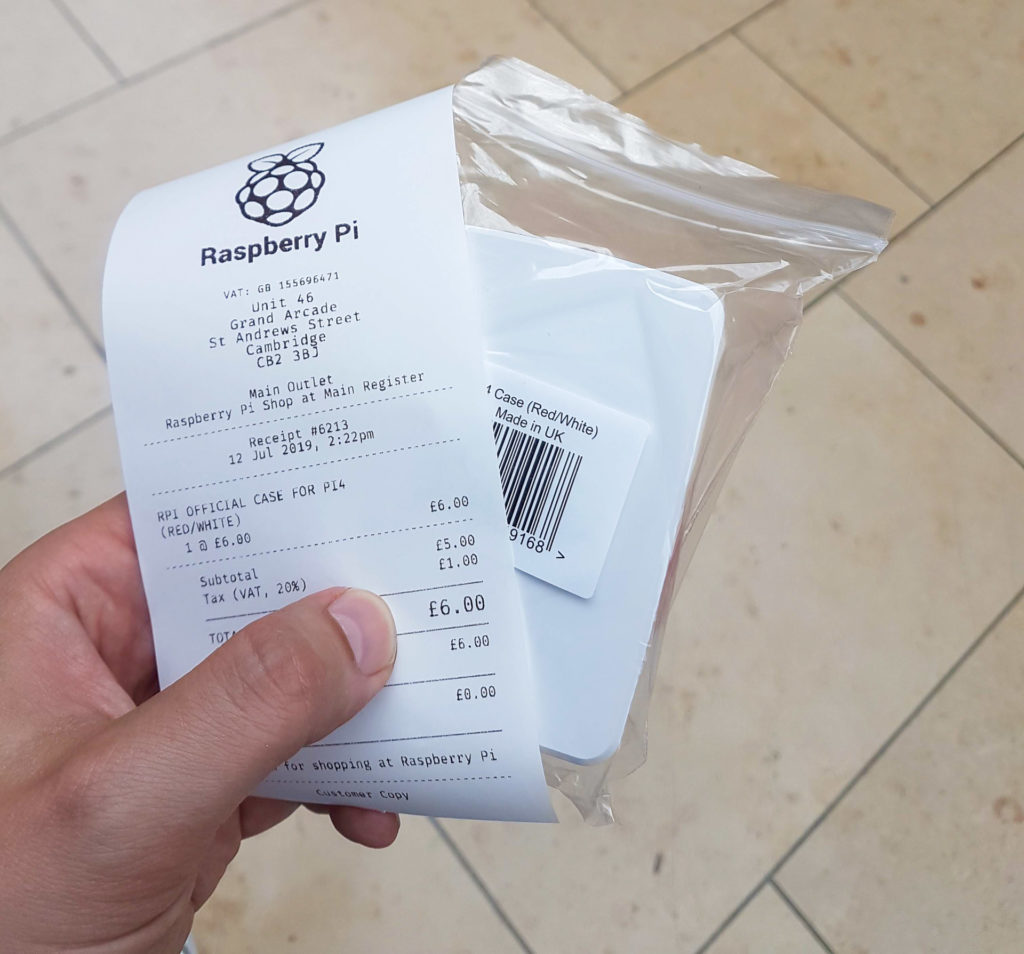 I had a superb visit, and considering the great historical landmarks and good pubs and restaurants, I can warmly recommend a trip to Cambridge and the Grand Arcade Pi Store to anyone visiting UK for more than a day or two.
In addition to housing an excellent selection of all things Pi, the official store gets my respect for representing Pi culture and projects in a very easy to approach and inviting manner. I believe the foundation's goal to bring children to computing is well served with the store, and hopefully they can open a few more to other cities as well. The concept certainly seems strong enough. Five stars out of five.