Safe Return-to-Owner Keytag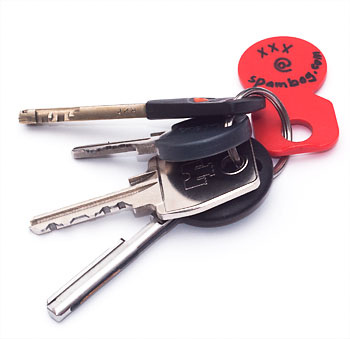 Something else than electronics this time: A real life hack for your keychain to make it possible for a finder to contact you in case you lose it, while maintaining full anonymity. There are commercial alternatives, but I already need the red plastic piece for shopping cart locks and decided two tags would waste valuable pocket estate.
Using my own phone number or e-mail was out of question, because they would easily lead to my home address. So I chose a very simple, free "public email" provider, Spambog. The service treats email addresses more like web URLs so there's no expiration or need for password protection, but if you choose a too simple alias, chances are that someone else might choose to use it, too!
Spambog offers a nice RSS and URL options to follow the e-mail (no forwarding, though, but you should only receive 0-1 emails ever so who cares). And even if someone did choose the same alias, the only drawback would be the possibility of a random person receiving the same "I found your keys!" mail, and chances are they don't live nearby and do robbing houses as side job.