Ugreen M.2 NVME drive enclosure with USB-C 3.1 test
I've been occasionally doing backups of critical files to an external hard drive (in addition to cloud of course :). However, my nice portable drive was only 500 GB and lately I've pushed over 600 GB with my Nikon D7200 RAW files. Time for a new drive! Instead of boring mechanical, I noticed that the very nice NVME SSD with Adata XPG SX8200 Pro with 1 TB capacity was available nearby for just 140€ (ca. $150)!
Commercial alternatives like Samsung T5 cost around 230€ here, so I thought I'd get one of those M.2 enclosures. Unfortunately, the ones with NVME support started from 50€ up in Finnish web stores.
Ugreen to the rescue
When you have something like M.2 enclosure, you know every manufacturer actually puts Chinese electronics inside. Thus, AliExpress seemed like an obvious destination to check out. I'm bit doubtful to order actual NVME drive (there were some cheap flash drives in the past that did not actually have the reported capacity), the enclosure should be fine.
Enter Ugreen, my favorite in AliExpress store. I've purchased several chargers from them, many having QuickCharge functionality, and the packaging, quality and everything are always top notch. Therefore I was more than happy to find a range of NVME enclosures from them for just $15-30: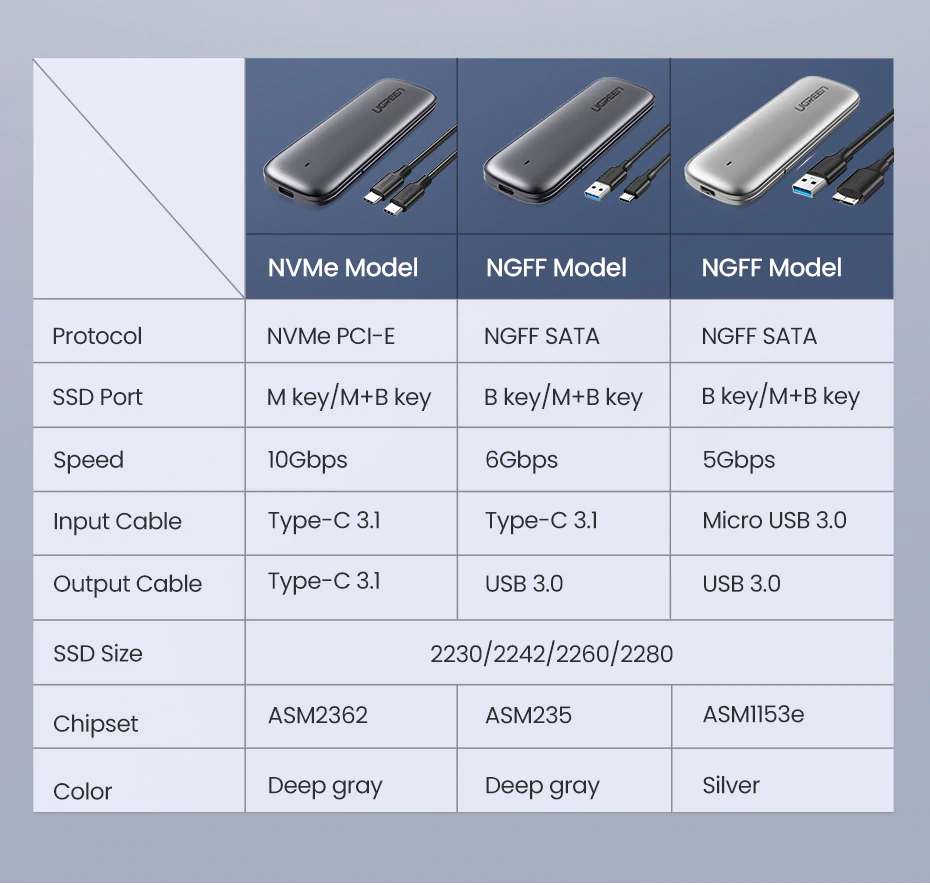 Ugreen M.2 SSD USB enclosures (from Ugreen product page)
Time to order one! Fast forward 2½ weeks of anxious wait…
Unpacking and installing SSD to M.2 enclosure
I got the NVME model which promised up to 10 Gbit/s data rates, and chose the option with extra USB cable as I don't have USB-C ports on my MB. The package arrived a bit faster than the promised 21-25 days. See the gallery below for glorious images of various stages of setup.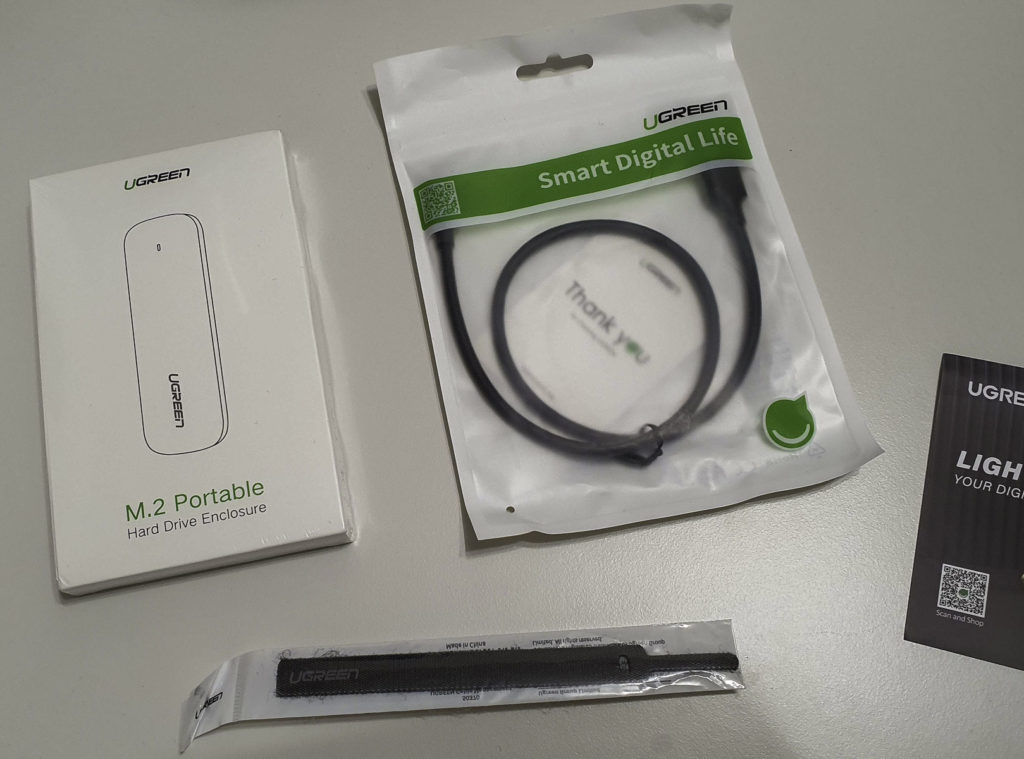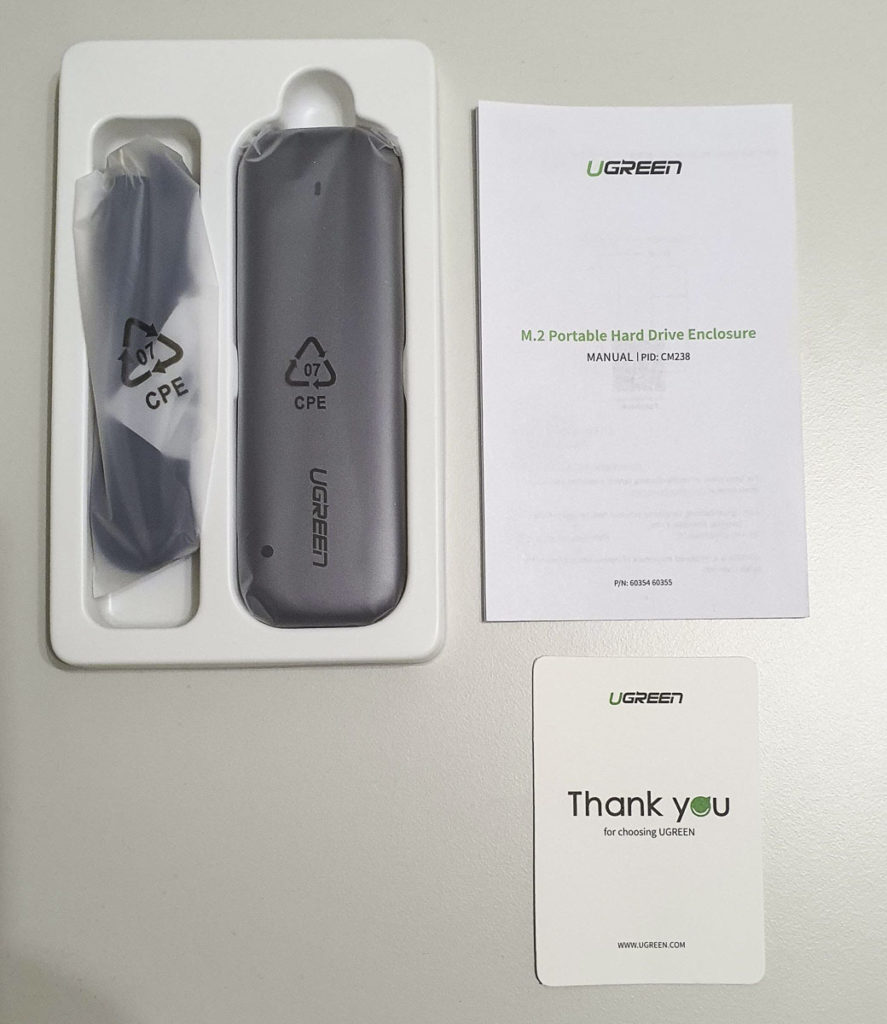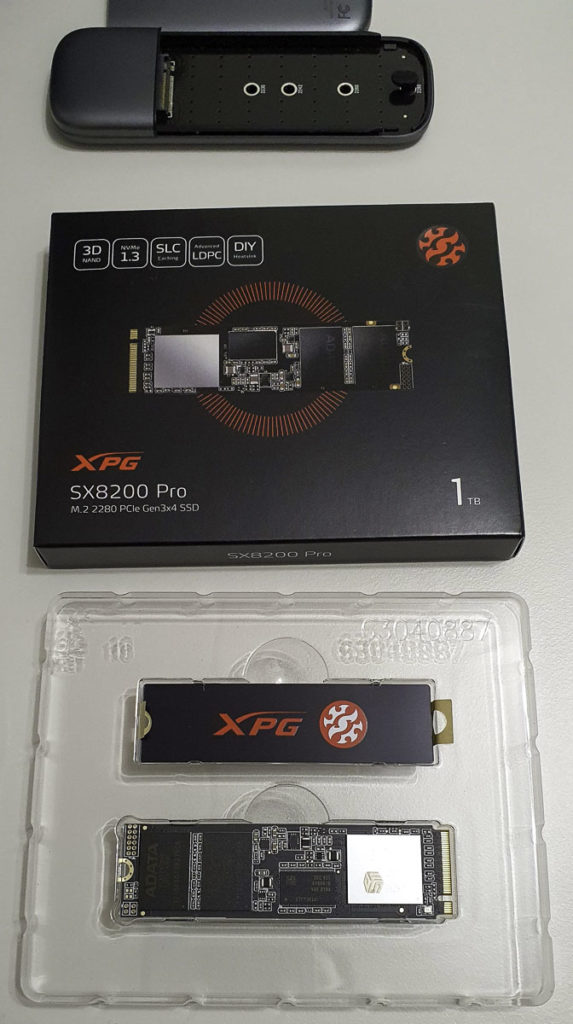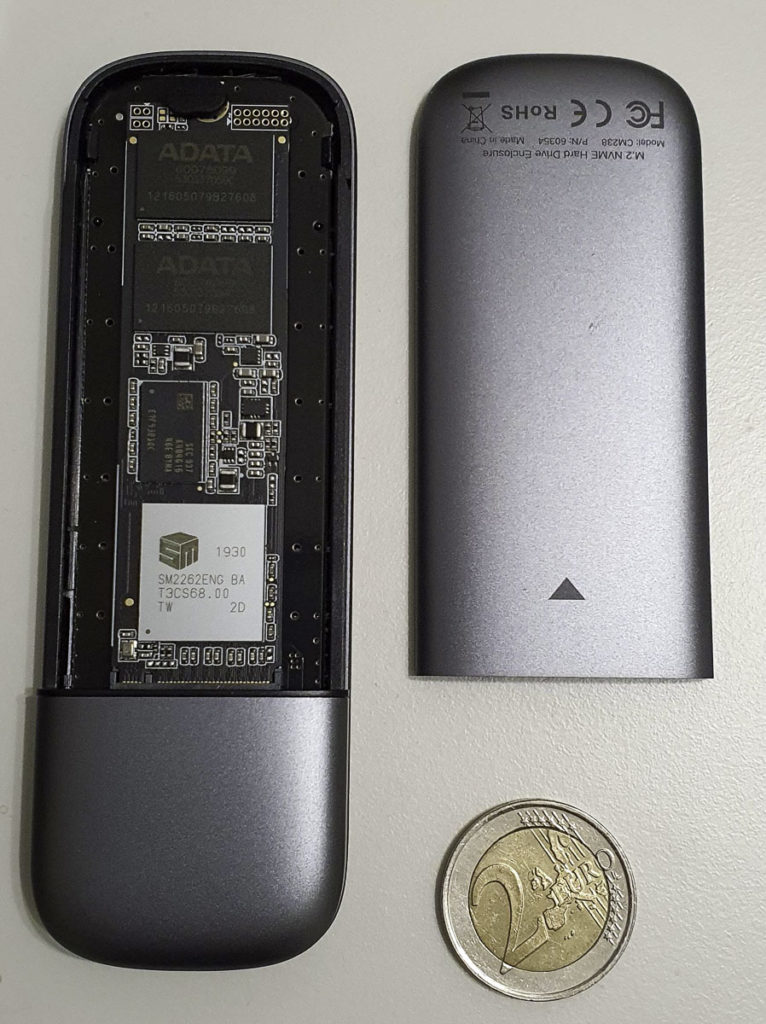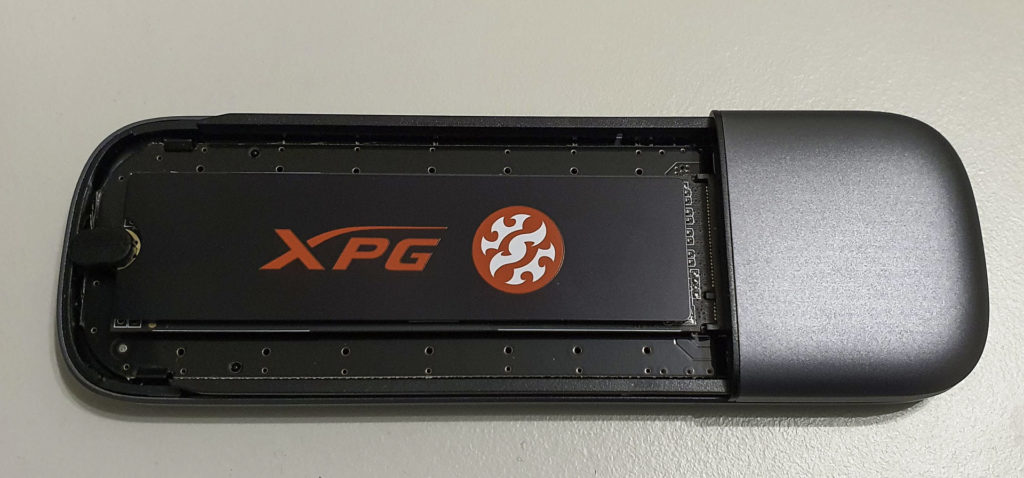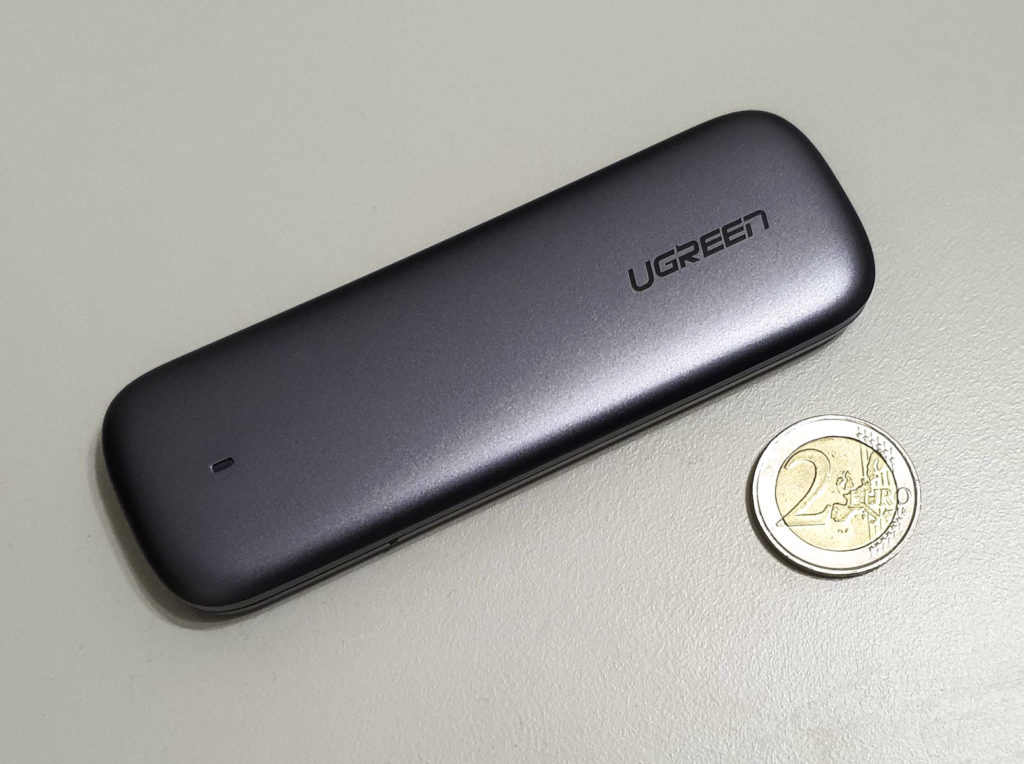 Unboxing of Ugreen M.2 NVME enclosure with USB-C 3.1
Setup was dead simple:
Unpack Ugreen enclosure from the box
Slide open the back (no tools required)
Take off the rubber "screw"
Insert M.2 NVME drive
Put back the rubber "screw" to hold it in place
(optional) Tape the cool XPG heat spreader on SSD
Slide the back piece back to place
Attach to computer
Create a partition with Disk management and format
Enjoy!
Without taking pictures, the whole process including quick format takes probably 5 minutes. Nice! Time to see how it performs…
Ugreen M.2 NVME enclosure benchmarked
I installed a simple USB flash benchmark (no endorsement for this, just the first google result and didn't seem too malware'y) utility to make a quick test run. I first ran it on my C drive which is the exactly same Adata XPG 8200, just connected straight to my motherboard. The internal SSD achieved up to 2600 MB/s write (not a long continuous write) which then slowed down for smaller files. The Ugreen also held its promise of 10 Gbit/s with a nice ~900 MB/s+ data transfer rates. Nice!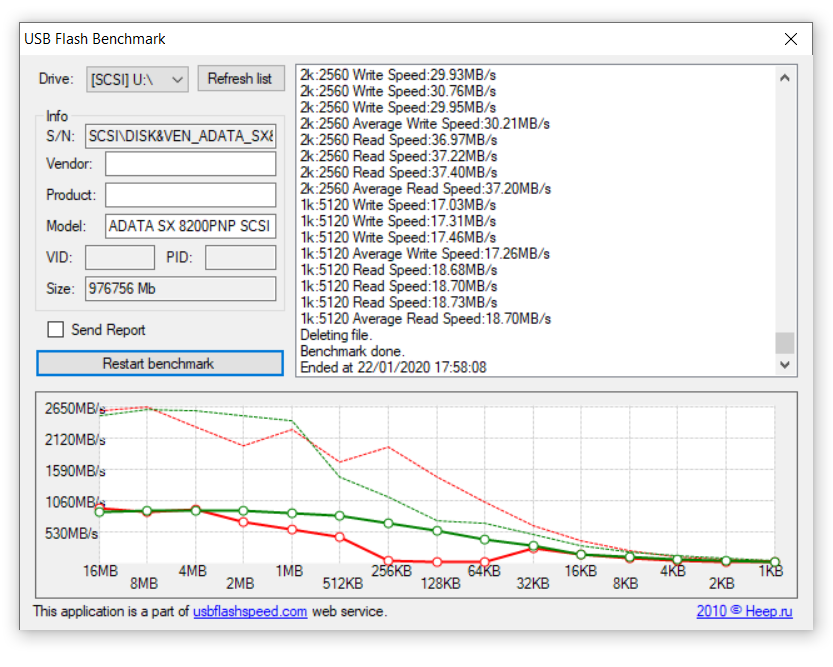 Ugreen M.2 enclosure speeds with solid lines, internal Adata XPG 8200 dotted for reference
Not bad at all! Of course a synthetic benchmark is not the whole story, so I copied a large 10 GB file to the drive from the internal NVME SSD to see how Windows performance is in reality: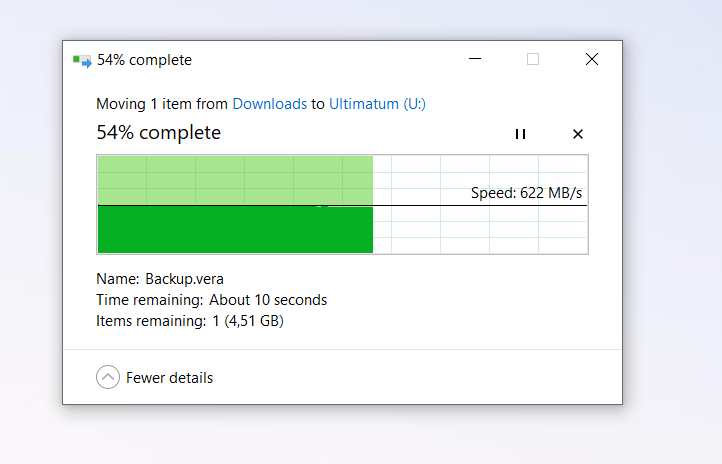 Nice 620 MB/s with large files on the Ugreen M.2 enclosure
The copy performance is impressive, especially considering that the "commercial alternative" Samsung T5 promises speeds of "up to 540 MB/s". The Ugreen + Adata combo is 25 % cheaper and 15 % faster — that's roughly 60 % better bang for the buck (1.6x performance per dollar)! And I have to add it looks better too.
Mounting a Veracrypt-encrypted partition and copying file to that is somewhat slower, but easily saturates my 180 MB/s mechanical hard drive read speed when backing up files.
Data retention
Some people (including me before the purchase) may have some reservations on the longevity of SSD as a backup media. A few years ago there were several reports stating an unplugged SSD could start losing data in just a few months due to magnetic degradation. However, a bit of googling revealed, that this was actually a worst-case scenario in high storage temperatures with drives that were at the end of their write lifecycle.
So a fresh drive used mainly for backup (i.e. maybe one full write cycle a year unless your backup needs change VERY rapidly) should be fine for several years, and if you do your backups even once every three months, it'll likely outlast a mechanical drive. With the pace that SSDs are getting cheaper, I'll expect to replace it with a much larger model in 5 years at the latest, so ~10-20 years life span is quite enough for me.
One small issue I do have with the compact SSD enclosures: I have to say the drive became quite hot when writing continuously for almost an hour (500 GB at 180 MB/s takes 45 minutes), I hope the engineers of the circuit and SSD have taken that into consideration. It would be a shame to discover 3 years later after a hard drive failure, that due to the drive and enclosure electronics hitting 90 degrees celcius, my backup files are somewhat spotty in their condition… Maybe I'll do a CRC check in the near future to confirm my data is more or less intact!
Conclusion
I have to say the purchase and "build" of this external SSD was very simple, fun and rewarding. The decreasing SSD prices even for NVME drives mean you can get a ultra-fast backup for something like $0.20/GB. Sure you can get Amazon Glacier for $0.004/GB/mo, but the breakeven is at 4 years, and you can do tons of stuff with an SSD that fits into a jeans pocket you cannot with Glacier. Plus, I prefer to have an onsite backup in addition to cloud.
And, if you're most cost-conscious, you can get a bit slower but still highly capable M.2 SATA enclosure and drive for something like $140, hitting a very sweet $0.14/GB point. We live in great times for backup enthusiasts!